Before you go, we'd love to understand if it's because of something we did, or because you finally found that special someone to set sail with! If you found that lucky person, we'd love to hear your Success Story! If it's something we did (it's okay, you can be honest), we'd love to hear from you too. If there's any way we can make it right, you can contact our team through our Help Center.
Before we dive in, below are a couple of good to knows:
Deleted accounts can't be reactivated, meaning that if you change your mind you'll need to create a new account - all your photos, chat history, and member interactions (Matches, Likes etc.) will be deleted forever when you close your account. Upgrades from deleted accounts do not transfer over to new accounts.
Want a not-so-permanent solution? Check out Take a Break available on iOS, or Hide Profile on Android and Web if you're just looking to step away for a short while.
Still ready to delete your account?
Instructions vary by the device type (iOS, Android, Mobile web browsers, and Desktop web browsers), so see below for the right instructions for you!
- iOS: If you're deleting your account from an iOS device, click here
- Android: If you're deleting your account from an Android device, we currently don't support that in-app, so just head to POF.com on your mobile device, and follow the MOBILE web browser instructions below
- Web: For desktop web instructions, follow the steps below (and scroll down a little further to see instructions for mobile web browsers)

To delete your account on POF.com using a laptop or desktop computer:
Head over to your Settings page
Scroll down until you find Delete My Account
Click Delete Account and follow the on-screen prompts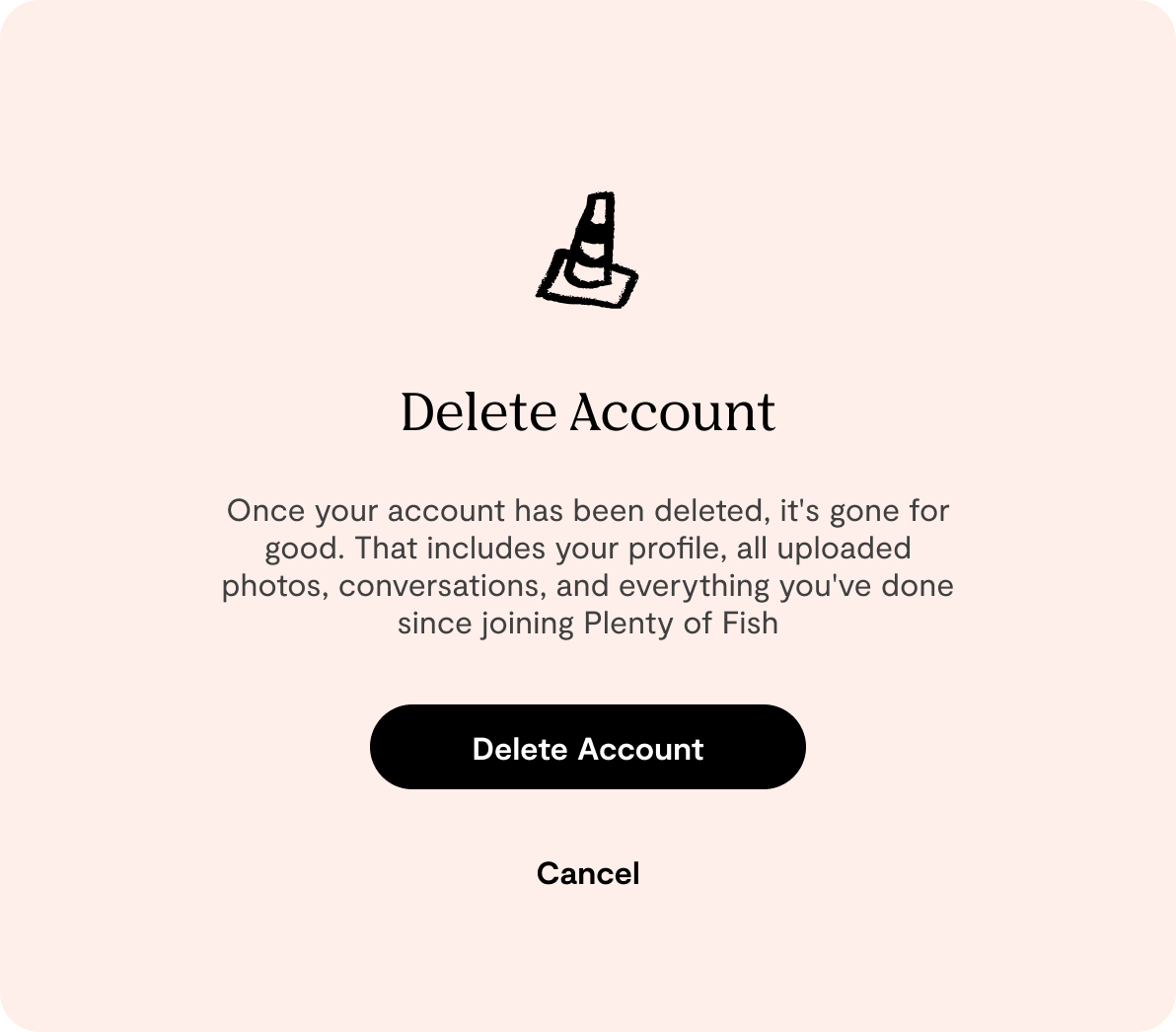 To delete your account from POF.com on a mobile device's web browser (including an Android web browser):
Click on the profile icon to take you to My Profile
Click on Manage Account
Choose Delete My Account
Please note: Your subscription will remain active until you turn your subscription status off at least 24 hours before the expiry of your current membership. See this link for more information.
Still stuck? You can reach out to our support team!
Need more help? You can reach out by simply filling out our contact form.

If you're contacting our team for any membership or billing related questions, just be sure to email from the registered email on your account (otherwise we can't verify it's you, meaning that we can't share account specific information with you!)

In addition, you can reach us via live chat support by clicking Support in the lower right-hand corner of this page. We're online between 8am -1pm PST. Wait times can vary based on customer volume, but we'll always be sure you know your position in the queue.