There's a dedicated Plenty of Fish support team ready to help in any way they can.
You can reach out by simply filling out our contact form.
Between the hours of 10:00 am to 3:00 pm ( PST ) on weekdays and on weekends, you can also reach us via live chat by clicking Support in the lower right-hand corner of this page.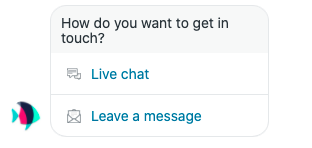 (Wait times can vary based on customer volume!)
If you happen to find a Plenty of Fish phone number online, do not call that number! Fraudsters will often post fake numbers and try to steal your credit card details. The only phone support line we have is reserved only for inquiries regarding billing, payments, and subscriptions:
Between you and us, we want to be very clear: If you search for a Plenty of Fish phone number online, and happen to find one, do not call that phone number. Fraudsters will post phone numbers online for companies, and then ask for your credit card details in exchange for help they will not give.
Plenty of Fish Support staff will never ask for your full banking details, account passwords, access to your computer, payment to provide support, or any private details. We might ask for the last four digits of a card number and your city or state, but that's all we need to know.